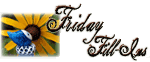 1. My blueprint for success includes
time with God each day
.
2.
A Snickers
was the last candy I ate.
3. The best facial moisturizer I've ever used is
Merle Norman.
4.
Journaling
can be good therapy.
5. I'd like to tell you about
my trip to Italy (see below).
6.
Hopitality 
is my strongest characteristic.
7. And as for the weekend, tonight I'm looking forward to
our last football game
, tomorrow my plans include
relaxing and catching up on sleep
and Sunday, I want to
thoroughly enjoy church!
Looking out over Florence through the doors of the basilica.
My mom at the top of the hill looking out over Florence
I love this picture!  We were on the train and mom is listening to my music!
This is Patricia, our instructor
There were so many beautiful terraces everywhere!!!  
I loved this one!