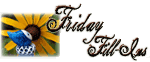 1. One of the best concerts/plays/movies I ever saw that I really didn't think I'd like was
the movie Anna and the King.
2.
The turkey gorgonzola panini and Carinos
is a recipe I recently made (
or meal I recently ordered)
that was delicious!
3. It's time for
taking responsibility
.
4.
Sarah Palin
is quite refreshing.
5. If I never hear the word
s mom, I don't have any clean underwear
again, it'll be too soon.
6. To one side of the curving road was a
 empty field
, and on the other was a
beautiful church
.
7. And as for the weekend, tonight I'm looking forward to
homecoming HS football game and wearing my new band sweatshirt
, tomorrow my plans include
cleaning and cooking/enjoying a shrimp dinner with my neighbors
 and Sunday, I want to
worship God and relax....maybe  a nap
!