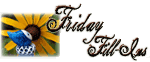 1.
Friday night football games and marching band, cooler weather and a two week trip to Italy with my mom!
are some of the things I'm most looking forward to in October.
2. Sometimes I
actually make my bed in the morning.
3.
I said I would never have another dog, now I do, she's perfect
.... and that's why there is a saying, "never say never"!
4. When I'm down,
I call my friends
.
5.
In my car (driving kids)
is where you'll find me most often.
6. A rainy day is good for .....
Oh, I really dislike rainy days...but it is good for getting stuff done that you have put off in your house for who knows how long because it's to depressing to be outside!
7. And as for the weekend, tonight I'm looking forward to
HS football and watching my boys march,
tomorrow my plans include
cleaning and dinner with friends
and Sunday,
I want to worship God with all my heart at church!
Happy Friday everyone!