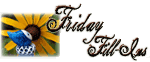 1. Follow the
Savior
.
2.
A good book
 is something I always take with me on vacation.
3. To achieve your goals, you must
work hard
.
4.
I rode an ostrich once
is something I'd like you to know about me.
5. I have
the best and most wonderful husband ever!
6.
Rootbeer
 floats
...yummmmm!
7. And as for the weekend, tonight I'm looking forward to
celebrating my son's 17th birthday (a week early!)
, tomorrow my plans include
 packing, attending a wedding shower and cleaning the house
 and Sunday, I want to
enjoy church and finish packing and my to do list....no nap this week, too much to do
!